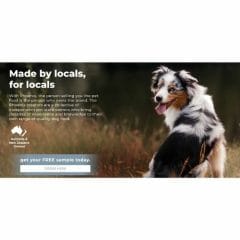 Free Phoenix Dog Food Sample
Phoenix offers dog food that is developed by an expert pet nutritionist. Each bag of food has all the nutrients that your dog needs. Now you can order a free sample of their healthy dog food for your furry friend. You can select which sample of the food you would like. For puppies, you can choose the flavour Ocean Fish and Barramundi for either puppies or large puppy breeds. If you have an adult dog, you can choose Goat and Lamb, Turkey, Duck and Chicken or, Ocean Fish and Barramundi.
Click the green button below to order your free Phoenix dog food sample. Once on their website, you will see the heading "get your FREE sample today", and you should click "ORDER HERE". A form will then appear, fill it in and select which type of dog food you would like to order. Your Phoenix dog food sample will then be sent to you.
CLAIM OFFER