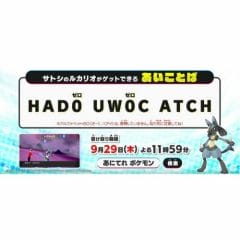 Free Lucario for Pokémon Sword and Shield
For a limited time, you can get Ash's Lucario free for Pokémon Sword and Shield games! To get the free Lucario, you should enter the code HAD0UW0CATCH on the Mystery Gift menu while playing either game on Nintendo Switch. Ash's Lucario is level 80, uses moves like Bullet Punch and has an Inner Focus ability.
Click "CLAIM OFFER" to read more about the free Lucario Pokémon on an online forum. If you are not sure how to get the freebie, you will find the full instructions on how to claim the Pokémon gift on the forum too. You only have until the 29th of September 2022 to use this code, so use it today and get your free Lucario before you miss out!
CLAIM OFFER