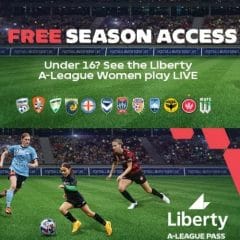 Free Liberty A-League Football Pass
If you have a child aged 16 or under, you can sign up for a free Liberty A-League Women Season Access pass for them! The pass means that they can see their favourite women's football team live at participating stadiums for free. Any friends or family without a pass will have to get their tickets as usual.
Click the green button below to visit the KEEPUP website, where you will find all the information you need. They have an FAQ section, and you can check which games are not covered by the pass. It is free and easy to sign up for the pass, just fill in the form, and you will get a digital and physical version. Get one today and share the offer with others so they can get a pass too!
CLAIM OFFER