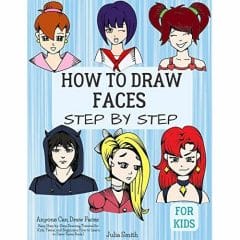 Free How to Draw Faces eBook
For a limited time, you can get the How to Draw Faces Step By Step eBook free on Amazon. The book was created for children, and it contains easy-to-follow instructions on how to draw different faces. Not only will they have fun, but drawing will also help develop fine motor skills, improve hand-eye coordination and more. Children and adults can have a go at drawing the faces, but the book is more aimed at kids aged 9-12.
Click the green button below to visit the book on the Amazon website. Once there, you can get a free copy on your eReader. Get your creative book before it goes back up in price. It is a fun and free activity for children and will keep them busy while learning!
CLAIM OFFER