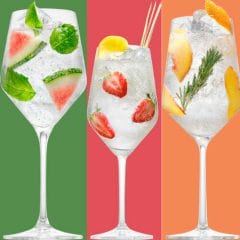 Free Grey Goose Vodka Spritz
For a limited time, you can get a free Grey Groose Essences Spritz! You can choose either Watermelon and Basil with mixer, White Peach and Rosemary with mixer or Strawberry and Lemongrass with mixer. This Grey Goose range is vodka infused with real fruit and botanical essences, so it is perfect if you love fruity and floral drinks. When you claim the drink, a unique link will be sent to you by email, and you can then show that to the staff at a participating venue.
Click the green button below to visit the Grey Goose promotion, and once there, fill in your date of birth and enter your details. You will then get an email with the link to use at your chosen venue. There is a map of participating locations, and you can enter your postcode to find the nearest one to you. Please note that you have to be aged 18 or over to get the free vodka spritz.
CLAIM OFFER