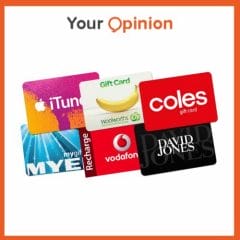 Free Gift Cards, Vouchers & Cash for Sharing Your Opinion
YourOpinion is a community where you can get rewarded for taking part in surveys, focus groups and product reviews. By giving your honest feedback about different products, services and more, you can earn cash that can be paid directly to your PayPal account, gift cards and vouchers. There are so many different rewards up for grabs, including iTunes, Coles and Woolworth gift cards, and you can even get cinema tickets.
Join YourOpinion free today by clicking the green button below. If you sign up now, you could win $1,000 as they have regular prize draws. Over 100,000 Australians are earning rewards with YourOpinion, and you can too. Sign up with one of Australia's best paying survey sites today.
CLAIM OFFER