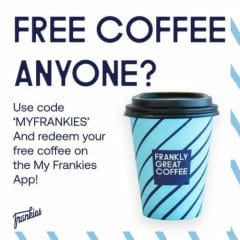 Free Frankie's Cafes Coffee
If you download the Frankie's Cafes app, you can get a free coffee! To get your freebie, you need to download the Frankies App, which is available on the Apple App Store and Google Play. Once you do, use the code MYFRANKIES at checkout, and this will give you enough loyalty points to get a free coffee.
It is a brilliant offer if you love coffee and want to try Frankie's Cafes coffee for free. Click the green button below to visit the Frankie's Cafes Facebook post, where you can read more about their app and the benefits you can get for becoming a member.
CLAIM OFFER