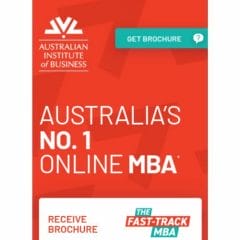 Free Fast-Track MBA Brochure
If you want to take things up a notch in your career, boost your earnings, invest in yourself and dream bigger, this offer is perfect for you. You can get a free brochure from The Australian Institute of Business about their Fast-Track MBA. Their Fast-Track Master of Business Administration qualification is 100% online and fully accredited in Australia to university standards, plus it is recognised internationally.
The free brochure will inform you about course fees, entry requirements, subjects and program duration. Order yours today by pressing the green button below, the link will take you to the AIB website, where you can fill in the form with your details. An MBA can lead to different career opportunities, so get the brochure to find out more.
CLAIM OFFER