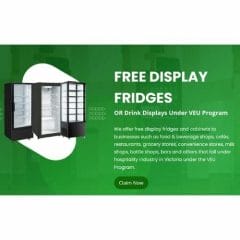 Free Display Fridges or Drink Displays
If you run a small or medium retail, hospitality or service business like a cafe, you can get a free display fridge or drinks display. Your business needs to operate from a commercial space, be registered in Victoria state, and have an active ABN. These fridges have improved refrigeration, lower maintenance and running costs, lower carbon footprints, and more.
The free fridges are available under the Victorian state government's VEU program, and to read more, click the green button below. Once on the TIMETOSAVE website, you can see more information and fill in the claim form if you want a fridge for your business.
CLAIM OFFER