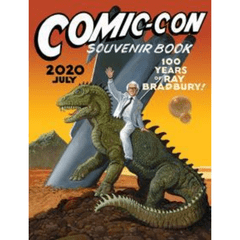 Free Comic-Con's 2020 Souvenir Book
What's in this year's Souvenir Book? Artist William Stout—famed for his illustrations and murals depicting dinosaurs, and his comics and movie poster work—once again graces the Souvenir Book with one of his incredible covers, this one saluting the centennial of famed author Ray Bradbury, one of Comic-Con's most beloved guests over the years.
This PDF is set up in 2-page spreads, to better mimic the feel of an actual book. Throughout the book are advertisements … for most of them, clicking anywhere on the actual ad will take you to the advertiser's website, where you may find exclusive merchandise for sale or exclusive content.
Click below to download the Comic-Con 2020 Souvenir Book!
CLAIM OFFER