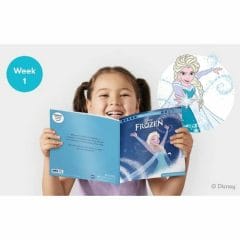 Free Books for Children at BIG W
BIG W runs a Free Books for Kids program, and it is back for the next eight weeks! During the program, free books will be available in-store for your child to collect. You don't need to purchase anything to get the book, you can just take one. New titles are released every Thursday, and they have already released a Frozen book for week 1.
It is a great freebie and your kids can enjoy getting a free book every week. Click the green button below to visit the BIG W website, where you can read more about the program and see the books that have been released already. Don't worry if you didn't manage to get one of the titles because they offer an audiobook version on their website too. So, if you missed the Frozen book, you can listen to the audio version on the BIG W website, enjoy!
CLAIM OFFER