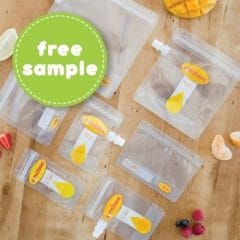 Free Baby Pouch Sample
Sinchies are now offering customers a free sample of their baby pouches. You can choose from different sizes including one suitable for yoghurt right through to large sizes that are perfect for soup, etc. These pouches are reusable and are great for storing baby food, herbs, smoothies, and even non-food products such as sunscreen. All you have to do is order a free sample of whichever size you would like to try.
The pouch itself is free of charge, but there is a small postage cost. This offer is limited to one baby pouch per customer. To try Sinchies pouches for yourself, just click the link below to go to the offer page. Put a sample in your basket and check out, easy!
CLAIM OFFER