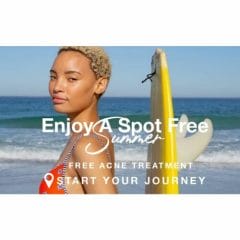 Free Acne Treatment Voucher
You can get a free acne treatment voucher from Clear Skincare. If you claim the voucher, you will be able to attend one of their Acne Consultations and try their Express Acne Treatment for free. Their treatment has a high success rate and is suitable for all skin types. If you were looking at trying an acne treatment, this could be the perfect offer because you can see if it works for you without spending any cash.
Press the green button below to visit the Clear Skincare website, where you can read more about the treatment they offer. Scroll down, and you can see photos and find the form you need to fill in to get your free acne consultation and treatment. While filling in the form, you need to choose your clinic, and once you have your voucher, it will expire in three months, so use it before it does. To qualify you must not have used their Acne Treatment before.
CLAIM OFFER