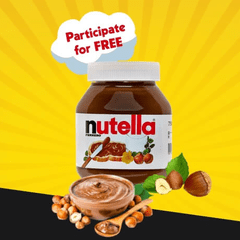 Free 5KG Nutella Jar!
Can you imagine having a jar of NUTELLA that never runs out? Enter to win this incredible 5KG jar of NUTELLA and don't miss the opportunity to sweeten your life and that of your loved ones.
The authentic taste of hazelnuts and cocoa, and its unique creaminess that intensifies its flavour... Don't give it another thought! Good luck and we hope the winner enjoys this great prize!
CLAIM OFFER